Why Worry? Safeguard yourself & loved ones with the revolutionary 911Life Kit. Unlike traditional medical IDs, the 911Life Kit builds on their concept by offering greater visibility & detail with all of following:

Choice of 2 Tag Shapes! Vibrant Red Aluminum GI with Silencer and Chain or Two Red Aluminum Disks - Each Laser-Engraved in White with a Med-Cross/Caduceus and Your Specified Condition

Static-Cling Window Decals - Discreet Yet Obvious to Life-Saving Paramedics...Can be Placed on a Car or Home Window to Relay Crucial Contact Info

Custom Medical ID Card - A Wallet-Sized Card That You Create Online and Print with Your Own Printer! May Contain Physicians, Drugs and Doses, Insurance Policies, Contacts & Much More! A Year's Access to this Easy-To-Use Creator is Included with Your Order Confirmation.

2 Clear Laminating Pouches to Protect Your Custom Medical ID Cards & Velcro Dots For Attaching Cards to a Car's Visor or Interior
$14.95 Includes Shipping View Sample Card
Medical Stainless Steel Necklace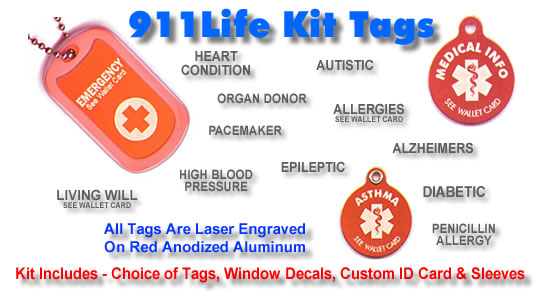 Necklace Tag Measures 1 3/16" X 2" - Includes Clear Silencer & 24" Beaded Chain
Disks Measure 1 1/4" & 1" - Two Round Tags Included in Disks Kit
Personalization is Not Included In This Kit
$14.95 Includes Shipping View Sample Card